Our web app, oHA, is the basis for many applications. One of them is a citizen app for municipalities, cities, or associations. Due to its high flexibility, standard functions of the web app oHA can be applied also to public sector. The web app can also be freely designed with the web app builder oHA without programming skills. But, we also cover existing and new innovative processes with individual programming and thus simplify complex services and processes. In addition, the oHA web app can be presented in an individual design of the oHA provider (white label).
The most popular functions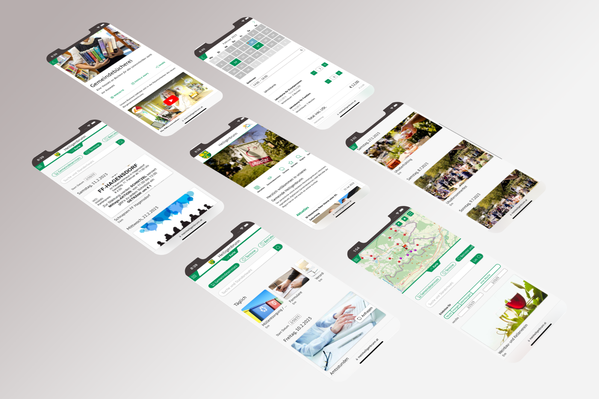 Our web app digitalizes entire cities, municipalities, regions, or associations and offers citizens a mobile citizen service. All of our customers and partners appreciate the following services:
E-mobility rental

Bookable appointments for official contacts and with regional authorities

Bookable local offers & products from the city, municipality, region, and local businesses

News and events with in-web app push notifications

General info: waste collection times, activities/POIs, opening hours, addresses, and downloadable forms/regulations
Countless benefits
oHA, the web app that brings people together!
Now, even your municipality, city, or association can benefit from innovative solutions and so optimize the daily workflow. Our local web app offers advantages for different target groups.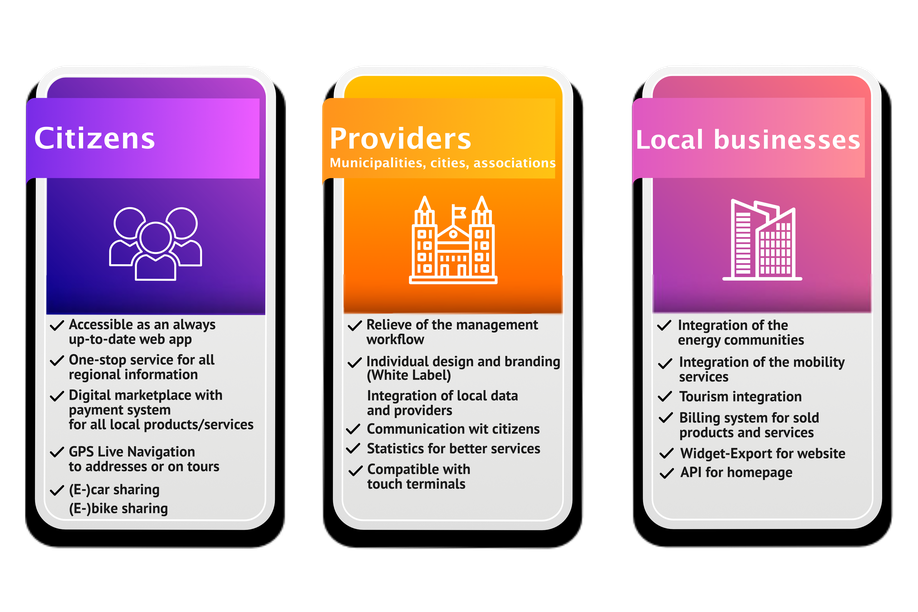 We are happy to help you finance your digital community or city app through national or European funding grants.
Digital marketplace for local providers
Besides helpful information for citizens, your web app oHA can also serve as a local digital marketplace where regional providers and businesses can make their products and services directly bookable, inclusive direct online payments. In this way, you create new sales channels where local providers can present themselves and offer their products and services directly online to the citizens or tourists. The digital marketplace offers a simple connection to local providers, separate access for providers, and a simple management platform with a commission and billing system. All bookable offers can also be presented via widgets or interfaces on any website or app, considerably simplifying data maintenance. In addition, our sophisticated authorization management allows individual local providers access to the system only based on the limited permissions.These permissions allow local providers to manage the marketing and sale of their services or products (managing their own operational information and processing their own bookings).
The integration of local providers creates more added value in the entire region and improves the economic growth of the region!
Improve your city, community or region digitally and in innovative, we help you with that!