Nowadays, family hotels enjoy great popularity, and more and more families pay attention to the family label with the appropriate hotel services. In Austria, there are hundreds of family hotels that offer their guests special and high-quality services for a perfect family vacation. These are often taken as basic requirements by guests but are more challenging tasks for hoteliers, as they brings with them many challenges in day-to-day business. For this reason, hotel managers are turning to digital support to simplify their complex services for families and automate internal processes. This is where we play a role, and advise hoteliers on digitalization providing their family hotels with the best digital and customized services from oHA guest portal.
Our main goal is to make all, even the smallest guests happy!
We have developed a special oHA module for family and kids hotels with digital childcare and customized digital guest services. We present you in this article the oHA functions and must-haves that will turn the stay of the accommodated families into an unforgettable experience!
Digitalisation tips for kids and family hotels from LuxActive
Pre-registration of kids for childcare
Digital support for childcare through wristbands for children so that staff always have an overview of everything relevant (dates of stay, allergies, swimmers/non-swimmers, if the child can leave childcare alone, and other special aspects)
Hotel's own interactive and digital children's & family tours with riddles or stories - fun for the whole family
Entire adventure program with interesting and up-to-date information for families in a one web app
Digital request/reservation/booking/purchase of additional services or in-house products via the hotel web app, independent of location (e.g., packed lunches, entry to aqua parks, horse-drawn carriage rides, souvenirs, children's cinema, tennis courts, etc.)
Direct online payments with a credit card or in-room booking
All current hotel information and digital guest folder with the most important information during the stay
Digital table reservation in the hotel restaurant or pre-ordering of dishes
Order meals/breakfast directly to room
Online bookable laundry service or housekeeping
Overview of current events on the spot/in the hotel
Digital holiday and activity planner even before arrival via the hotel's web app
Special offers using the promo codes or discounts specifically for families in the hotel web app
Digital childcare from oHA
The oHA module for digital childcare is designed for a simple registration, check-out as well as administration of the children being babysat by hotel animators or Kids Club staff.
All registered children receive a children's wristband with a unique QR code on their first visit of the hotel Kids Club. With this wristband, the child is automatically logged in and out of the Kids Club during the entire stay by scanning the QR code on its wristband. In our experience, children are very happy about colorful hotel wristbands that can be individually designed by hotels!

The PDF registration forms for childcare are automatically generated per child in oHA Base, CSM system, and ready for physical signature by parents

With the backend solution oHA Base, the staff can even see if the children have already been pre-registered by the parents before their arrival and if they visit the Kids Club in the next few days

The kid club's staff and animators have all the child's personal information at their disposal and can see, for example, whether the child is able to leave the childcare on its own and what allergies the child has. As well as other important information about the child

The kids club staff has thus always an up-to-date overview of the currently registered and logged-out children in the childcare, sorted and grouped according to their age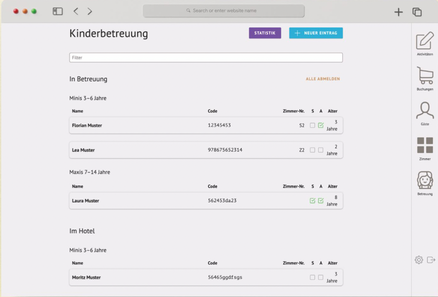 Example of oHA instance for the Gut Wenghof - Family Resort Werfenweng