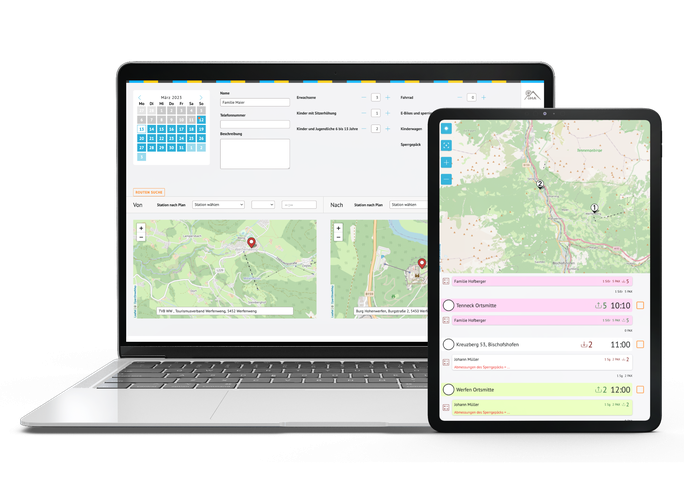 In addition to many innovative modules (tourism, public sector, energy, shared mobility), the digital platform and web app oHA also includes a fleet management module that is optimized for regional taxi and shuttle providers. This fleet management module was developed for the W³-Shuttle (Werfenweng, Pfarrwerfen, Werfen) and covers complex organizational processes and requirements of the local W³-Shuttle service.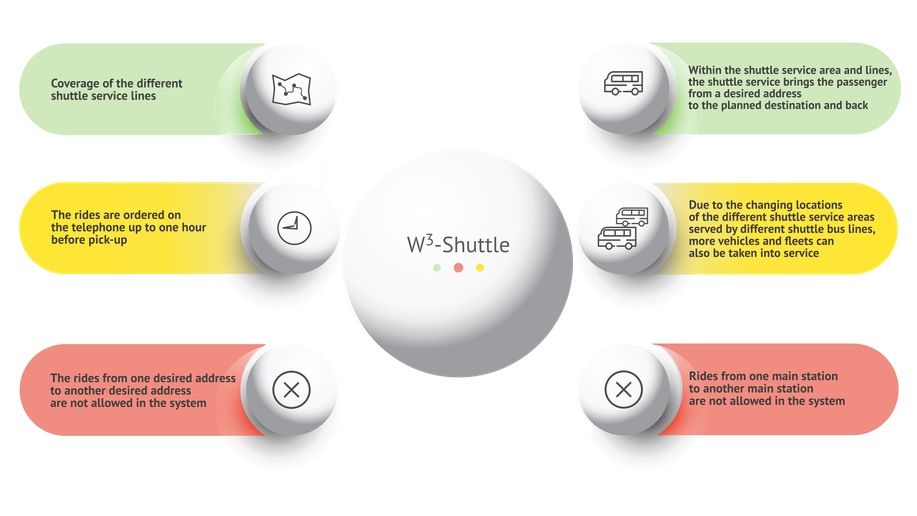 * Shuttle service areas refer to the lines and routes of the W³ Shuttle (Werfenweng, Pfarrwerfen, Werfen). See also the timetable.
** The guest can either travel from a point in the shuttle service area to an allocated bus stop (e.g., green area to green point), from bus stop to bus stop, or from bus stop to the point. In addition, the route direction of the shuttle service limits the possible boarding/ deboarding in the shuttle service area. Furthermore, passengers can also change between the shuttle service lines.
Modern and digital fleet management and control center
For the route planning of the departure and destination locations, we developed in oHA an artificial intelligence (AI) system. This system plans journeys in the various shuttle service areas and overall between the shuttle service areas. This enables centralized and optimal fleet management that is optimized for staff to work efficiently and control complex processes.
The simple organization of the complex fleet management
The shuttle control center has its own web login to access the desktop interface for fleet management. This is where incoming requests from passengers are collected. Based on these, efficient routes are planned and assigned to the shuttles.
Passenger information from the shuttle control centre
The shuttle control center can specify the following attributes for scheduled shuttle rides,


Name of the main passengers

Telephone number

Description with individual notes that appear to drivers during the ride with the passengers

Number of adults and children/teenagers

Number of children with the car baby seat

Number of bicycles with consideration of lockable bikes or e-bikes

Number of baby buggies

Number of transported luggage
Management of the returning shuttle rides
Fleet management also processes and handles returning rides for passengers (e.g., commuters) to make the management of the fleet and vehicle as time-saving and simple as possible. This is achieved through automatisms of the system.
A clear overview for the shuttle control center
W³-Shuttle offers a clear overview of all currently available vehicles with concise passenger allocation. At the same time, future rides and schedules can be viewed and easily edited via an integrated calendar.
Route suggestions and vehicle allocation in one click
For each planned ride, a specially developed AI determines the best route suggestions based on the departure location, the destination, and the time, with or without changing locations. These suggestions can be easily selected by the control center and assigned to the vehicles with just one click. But, of course, you can always see a free capacity for each vehicle.
Management of the individual rides with the manual editor
If the control center of the shuttle still wants to override the AI's route suggestions manually, the fleet management system also offers a manual editor. This can be used to plan and carry out individual routes, like special routes and trips.
More transparency and statistics as an additional benefit
With a simple click, ride statistics can be viewed and exported as an Excel spreadsheet. This guarantees a high level of transparency for internal accounting.
Many regions and customers may require simpler solutions, such as only one shuttle service area with fixed pick-up points and time schedules. These can also be mapped in oHA based on a slight adaptation.
Informative and time-saving touch interface for drivers
For the W³ shuttle service drivers, we developed an intuitive touch interface, especially for tablet devices. This provides the drivers with an intuitive and user-friendly interface.
Touch screen for easy control
The tablet's touch interface has been designed to be as simple and quick as possible for drivers. Furthermore, information/data can be viewed and changed according to the current situation by the ride on the spot without spending much time.
Current routes and transported passengers at a glance
Drivers use the view on the tablet mainly to check the current route and passengers and confirm passengers when boarding and exiting the shuttle bus.
Information on passengers for internal statistics and accounting
Drivers can specify the following passenger information on a ride for statistics and internal accounting,
Passenger information provided by the shuttle control center (e.g., one passenger less than originally planned)

Different types of billing, e.g., SVV ticket, time card W3, ski bus, voucher, or the EUR amount of received cash
Booking of the shuttle service
Passenger app view can be developed at any time based on the shuttle control center. Passengers can then easily plan or request their individual rides on a map. Due to the currently determined GPS position, it is easier for passengers to request a shuttle service, as no regional information (street names, etc.) is required for pick-up. Planned rides can then also be easily ordered via the app without a telephone call. Of course, the shuttle service can still be operated as an app for passengers and telephone call bookings.
This micro-public transport solution can also be linked to other sectors, such as tourism, the public sector, or energy with oHA. This provides citizens and tourists with a one-stop service for all their requests!