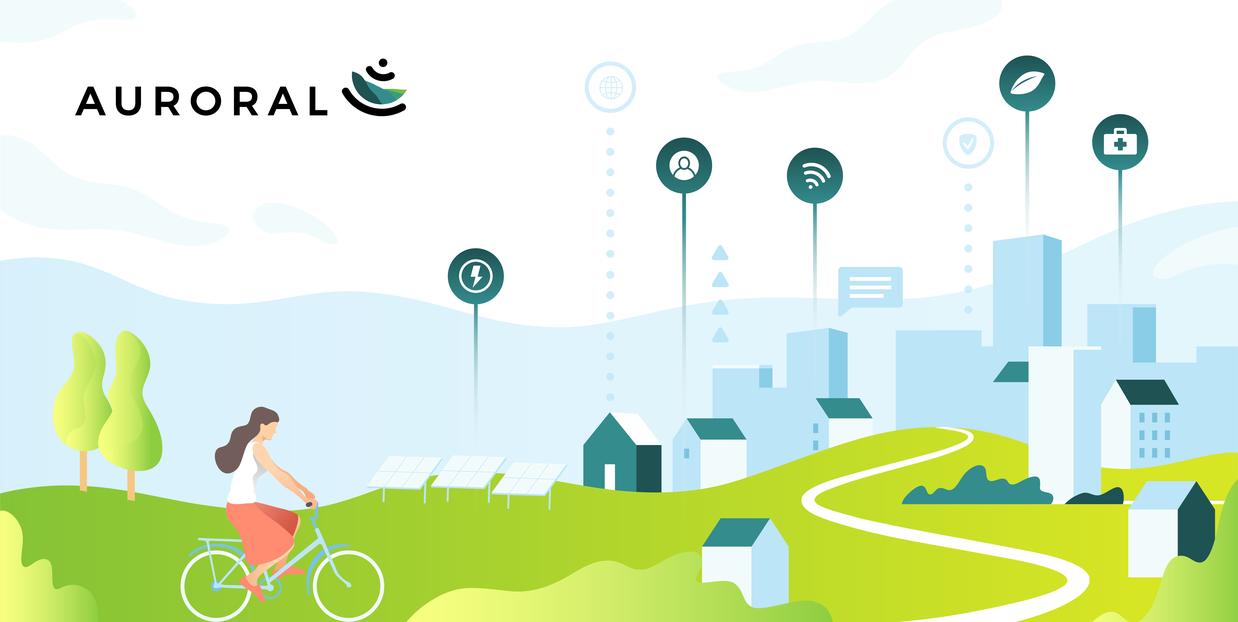 About H2020-AURORAL Project
Architecture for Unified Regional and Open digital ecosystems for Smart Communities and Rural Areas Large scale application
AURORAL focuses on improving connectivity and providing a digital environment with smart objects and interoperable service platforms that can kick-start dynamic rural ecosystems with innovation chains, applications and services. In this way, AURORAL contributes to increasing economic growth and job creation in rural areas, as well as addressing significant societal challenges, bridging the digital divide between rural and urban areas and unlocking the potential arising from improved connectivity and digitalisation of rural areas. AURORAL's digital environment is demonstrated through cost-effective and flexible cross-sector applications, where also belongs oHA, in large-scale pilot projects in five European regions. It is built on an open, API-based, interoperable and federated Internet-of-Things (IoT) architecture and includes a reference implementation that supports the flexible integration of heterogeneous services, bridges the interoperability gap of smart object platforms and creates markets for services in rural areas.
Source and more information also at auroral.eu
Pilots of the H2020-AURORAL Project
Lapland 

(Finland)

Piedmont 

(Italy)

Penedès (Catalonia - Spain)

Västerbotten 

(Sweden)

Hålogaland (Norway), Tourism sector, 

oHA Digital Platform with Web-App integrated

Hålogaland 

(Norway), 

Health sector

Southern Burgenland 

(

Austria),

oHA Digital Platform with Web-App integrated

Alentejo (Portugal), 

oHA Digital Platform with Web-App integrated
You can find more information about the pilots here
AURORAL Project presented at the Smart City World Expo in Barcelona 2022
Project coordinator Marcos Nogueira represented and introduced the AURORAL project at the session about Digital Twins at the Smart City World Expo in Barcelona 2022. This session was organized by European Commission.
Interoperability with oHA Digital Platform in H2020-AUROAL
The platform oHA is a digital guest/user service, information and booking system for tourists and end-users which is accessible as a white label solution for tourist service providers, local businesses or municipalities. oHA enables to built smart communities and digital marketplaces in different sectors, such as:
Tourism
E-Mobility
Public Sector
Energy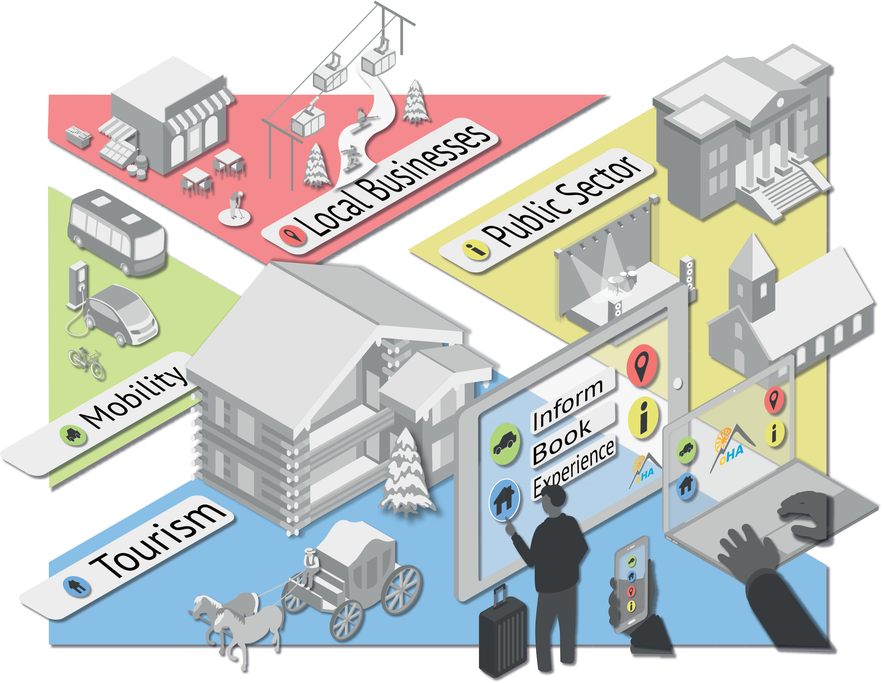 With oHA, tourism companies, regions or local providers can easily serve their guests and users with relevant information and digital services on a daily basis! With oHA, many local businesses are bookable for tourists and residents. In public sector, municipalities can offer different services like bookable appointments or annual passes. Both, tourists and residents can book and inform about e-cars, e-bikes and shuttle services. Energy communities are promoted. Monitoring of energy consumption and usage statistics is provided.
But oHA offers much more services for each of these sectors, where some of them are listed below.
With oHA a variety of services for every user and sector
Reservation, booking, rental of services, activities and products

Bookable appointments or annual passes from an virtual municipality office
Online payment with coupons and discounts

Digital outdoor guiding system based on the geolocation of the user

Story telling tours with hidden multimedia based on the geolocation of users

Marketplace for local providers with different commission models
Rental and booking of e-cars and e-bikes

Shuttle service with fleet management

Visualization of energy services like produces or consumed energy

AI supported search and map view for services, activities, events and products
Visualization of location based content
GPS navigation to content with geo locations

GPS navigation of bike-, hike tours and walking trails 

Push notification with PDF news

Time planning with calendar view of upcoming events or bookables

News and updates of the region
Weather forecast

Room control

Child care support for accommodations
Design editor containing a Web-App builder
GDPR compliant and anonymous user statistics

White label

Open through APIs or different widgets
Benefits for oHA providers
oHA as a white label solution is suitable for providers from different sectors, such as municipalities, regions, local, mobility, or tourism providers.
oHA provides comprehensive information regarding the entire customer journey with touchpoints 

of their 

users and potential customers. Event logs from oHA and environmental data like sensor data are collected. Statistics and automated evaluations are then generated on these data. Methods like process mining and machine learning are used to analyze the user behavior with the goal to improve digital services in a whole region across many domains. 
With the 

Design Editor

 in oHA Base, the administration tool for oHA, you can easily design your own Web-App. These does not request any developing skills 

or experiences.

 You can always see immediately how 

oHA Web-App

 actually looks and you can create or test a new design in seconds 

(e.g., colors, icons, videos, pictures, header/footer, 

news, dashboard etc.)
Managing of the bookings

 is easy and well-arranged. oHA providers can, for example, define the contingents, available capacities, and time-slots for their bookings, based on the individual booking 

processes. Nearly all possible complex order processes can be covered with oHA.
Digitized and automated processes prevent and eliminate mistakes and problems by bookings/rentals/reservations on both sides, i.e., end-users and providers.
Interaction with end-users

 in the form of the push-notifications or news is possible any time. You can immediately inform your users about special offers, discounts, hazard warnings, cancellation of events, or publish the flyers. 

For instance, in this way, municipalities can also communicate with their residents and offer a high-level e-governance service.
The Widget generator

 for own or external websites enables 

indirect sales

 also 

from external suppliers

 and offers 

more sales opportunities on multiple channels

. In addition, the accounting tool in oHA Base offers a 

transparent invoicing

 

of the efforts and provisions of various providers

. The calculations and statistics are also generated automatically.
By providing services and products that can be online booked at any time, oHA providers generate more sales. As our statistics show, even small oHA providers (like accommodations with just 10-15 units) receive about 400 orders per month form their guests (breakfast, guided tours, rental etc.).
Fully integration with the AURORAL Cloud
oHA shares data with the auroral cloud, like location based activities for experiences. This enables an open eco system for further applications/innovations on different domains. Furthermore, all data and services are shareable between oHA instances. An API and the oHA Widget-Generator enables easy-to-use data sharing. Thus, oHA data and services are accessible across Europe.