As part of the H2020-AURORAL project, we have set another great feature to the web app oHA - The Digital Story-Telling Tours. This allows digital story-telling through tours, so tourists can get location-based information, e.g., historical stories illustrated with pictures, videos, or audio files.
In oHA Base, the content management system of oHA, you can create as many GPS tours as you like, and along a tour set so-called >>story pins<<. Story pins pop up for a tourist in the navigation mode of oHA during the tour as soon as he is in the immediate vicinity of a story pin. This makes it possible to tell stories with interactive content. Story pins can also be hidden entirely in oHA so that they cannot be viewed in advance on the map by tourists, but only when they are physically in the near area of a story pin. This motivates tourists to go on a tour, surprises them at the same time with great information that they can experience live on the spot, and makes the tour in oHA a more exclusive attraction of the region!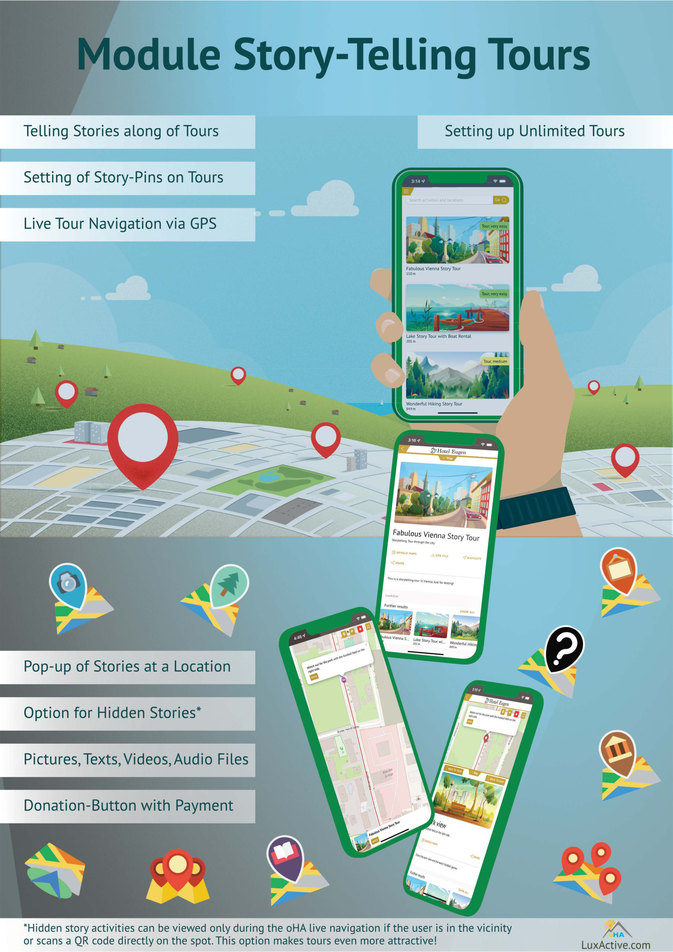 Digital Story-Telling and Outdoor Guiding System in the Hålogaland Region, Norway
This oHA module was also set for the Norwegian pilot region within the H2020 AURORAL project in Hålogaland pilot, Narvik. It is part of the tourism use case of our project partners, Narvik Kommune and Smart Innovation Norway. The implementation is currently in the test phase, during which statistics on end user activities as well as their behavior are collected and evaluated with the help of the oHA tool. In the Hålogaland region, tourists can live navigate themselves on tours with oHA, discover hidden or free stories during the tour, and voluntarily donate directly through oHA to maintain local attractions. This ensures smart destination management and happier tourists. Read more about this region here.