Smart City Services
We develop smart city services for your city (or municipality) to increase the efficiency of organizational processes, provide more effective communication with the public, and improve both the quality of public services and the well-being of citizens.
We focus on the following Smart Services
Smart public services and e-governance

Smart infrastructure

Smart data monitoring and data management

Smart and sustainable projects for cities and regions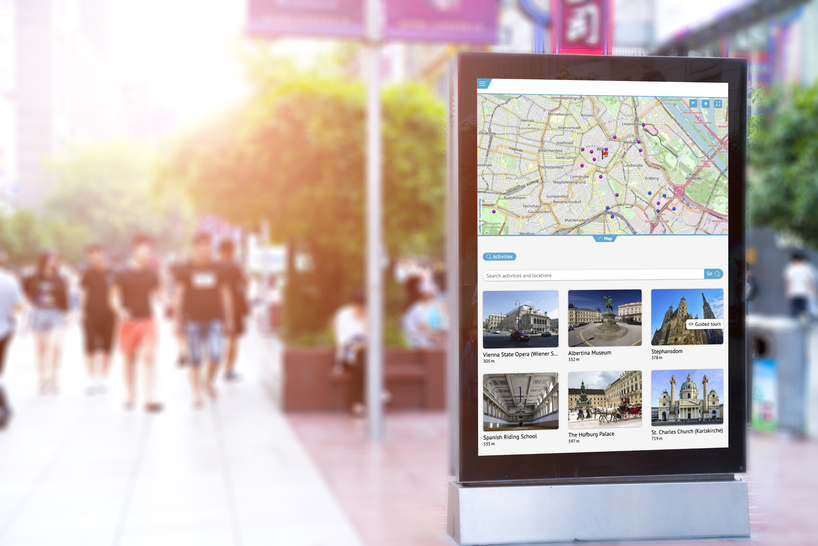 Your benefits as a smart city
Public citizen portals for smart cities
We support you with our software systems available as data platforms, apps, or information terminals for the city administration offices or citizens. These serve as guideposts and support not only the citizens but also the administrative personnel in diverse fields and departments. Terminals, apps, and citizen portals enable the city or municipality's new digital processes and services. These include, for example, online booking of co-working and meeting rooms. Moreover, our digital platforms are modular and easy to adapt.
Thanks to our software systems' modular structure, also other smart services can be integrated and expanded step by step in the future according to the needs of the citizens or the city departments. Our customers particularly appreciate the flexibility of our systems and solutions. These are usually offered as a progressive web apps to make the platforms as easy and uncomplicated for the end users as possible. The progressive web app can be opened in all standard web browsers on various devices such as PCs, smartphones, or tablets. In addition, progressive web apps can be installed like standard apps on mobile devices. On request, we can also develop and set up for you smartphone apps that can be offered by your city in app stores.
A variety of functions
Digitalization of public citizen services

Easy online communication with citizens

24/7 up-to-date information

E-forms and PDF download

Citizen profiles & accounts

Booking/reservation/request of services and products

Own design with the design editor

Digital concierge and consulting

Forms, links, and contact to local authorities

Calendar for appointments, deadlines, or events

Official documents and applications can be filled in and sent directly to authorities and city departments

View of the complete communication history in the user interface

Video/text chat with city officers & personnel

Automated chat questions

Document management
Digital Twins for Smart Cities
We create and develop Digital Twins based on environmental information and technologies such as sensors. Within this domain, we develop unique algorithms and can support you in implementing simulations based on the Digital Twin with digital processes, services, and software development.
Contact us to discuss your use cases for Digital Twins.
Data processing with our scraper & crawler
With the help of our self-developed technologies, scrawlers, and crawlers, we make countless amounts of unstructured data interpretable by structuring them and improving their quality, e.g., by identifying duplicates. We also extract infrastructure data from websites and documents using the latest technologies. The extracted data are enhanced by adding geolocations, descriptions, categories, opening hours, etc. and can thus serve as a solid basis for further digital services and usage.

Our goal is to determine relevant data automatically, format it, and make it available for further efficient usage in databases, taking into account international standards (FIWARE, Gaia-X).