Guest cards
For points and discounts on experiences, rentals and products for guests with stay
So that tourists and guests of a particular region can fully enjoy their time in a destination, we developed the digital guest card, which makes all kinds of experiences easy to find and uncomplicated to book.
With the guest card module, guests with a stay in the oHA web app can easily purchase a point card and use it to enjoy experiences in the region (e.g., carriage rides, guided hikes) or for rental (e.g., electric vehicles, snowshoes, or hiking equipment). Guests will receive an invite link, which will be sent after booking of their stay. With oHA, local providers and tourists always overview how many places are currently available, on which date, and at what time. Each operator can also create very individual regulations for their offers - for example, how many days in advance tourists can book, the minimum number of participants per booking, an upper limit of orders or participants for an appointment, requested time for a time slot, additional products that can be sold with a booking and much more.
The entire solution is tailored to be refinanced and profitable for the regions and tourism destinations. Local businesses can also integrate bookable widgets on their own websites to strengthen their sales even more. Through the oHA interface (API), other systems and websites can also be uploaded with the data from oHA, enabling easy integration.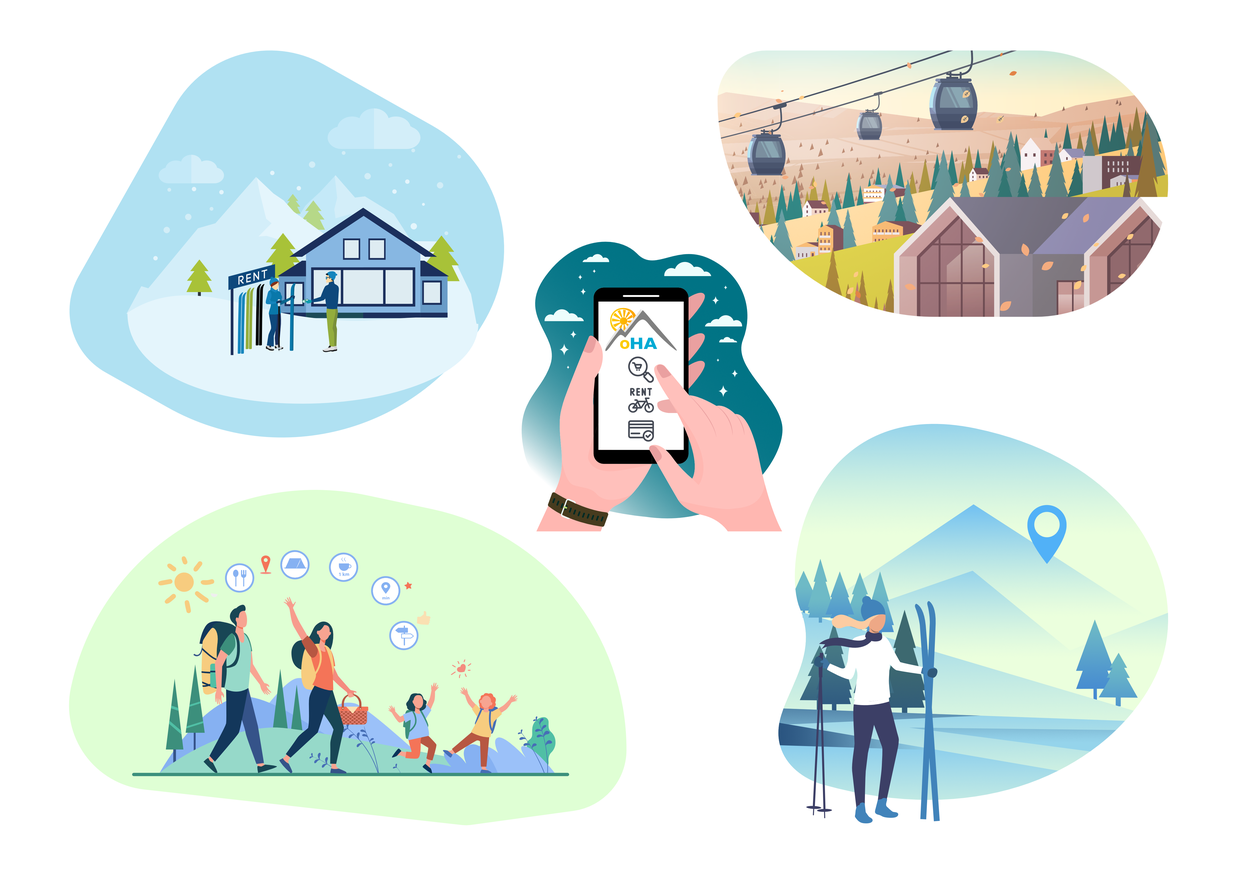 Online booking and payment
For experiences, rentals and local products - also for one-day guests and tourist
Businesses not participating in the guest card system can still be integrated with booking and payment in the oHA web app. This means that day visitors can also make bookings. The usual guest information, such as events, excursion points of interest, gastronomy, tours with GPS navigation, weather, activities, and much more, are also included.
Example of the new Werfenweng Card
The guest card with points in the Werfenweng model region
The guest card is available in two variants for guests with the booked accommodation at the destination. Different points are added to the guest and tourist card depending on the chosen variant. Moreover, accommodation providers, which figure as partners, offer guest cards to their guests with price advantages. After booking accommodation in Werfenweng, the guest receives an invitation link from the accommodation or hotel provider. Guests can then pay for the selected card type online conveniently from home and make in-advance bookings for the planned stay and holiday in Werfenweng. This process makes holiday planning even easier and more convenient! All mobility services (e.g., shuttle service or e-car rental) are available without points deduction and are therefore free for the guest with a valid guest card. Many local experiences, such as horse-drawn sleigh rides, guided hikes, and much more, can be booked using the card's points. Also, a selected guest can manage all other family member's or co-traveler's bookings and so book some of the local experiences for them. This makes the booking process very easy and pleasant for Werfenweng tourists.
Of course, guests can also get a link on spot from the tourism board or buy and use the card in offline version.
You can find more Informationen under werfenweng.eu or mywerfenweng.eu.
Even accommodation providers, such as the Gut Wenghof - Family Resort Werfenweng (which uses the oHA guest service for its own guests), can easily dock onto the point card system of the destination. This means that the guest does not have to change the web app and can buy point guest cards and spend points on local experiences, mobility services, rentals, or products in the web app of the hotel provider. oHA also offers digital guest folder and other innovative digital services for hotel providers.
In addition to their own individual design and the guest folder, the hotel providers benefit from their own web app, oHA, allowing guests to easily book massages, spa facilities, dinner, packed lunches, or other in-house services. Also, digital requests, such as table reservations, can be made through oHA. For paid bookings, the guest either pays directly online or makes a reservation for the room. Among many other oHA modules, two of them include, for example, digital support for childcare or smart room control.
You can find more information and practical examples under gutwenghof.at or direct in web app oHA mygutwenghof.at.
Werfenweng is the great example of a Smart Tourism Region!
Case Study - Tourism Association Werfenweng using guest portal and destination management system oHA